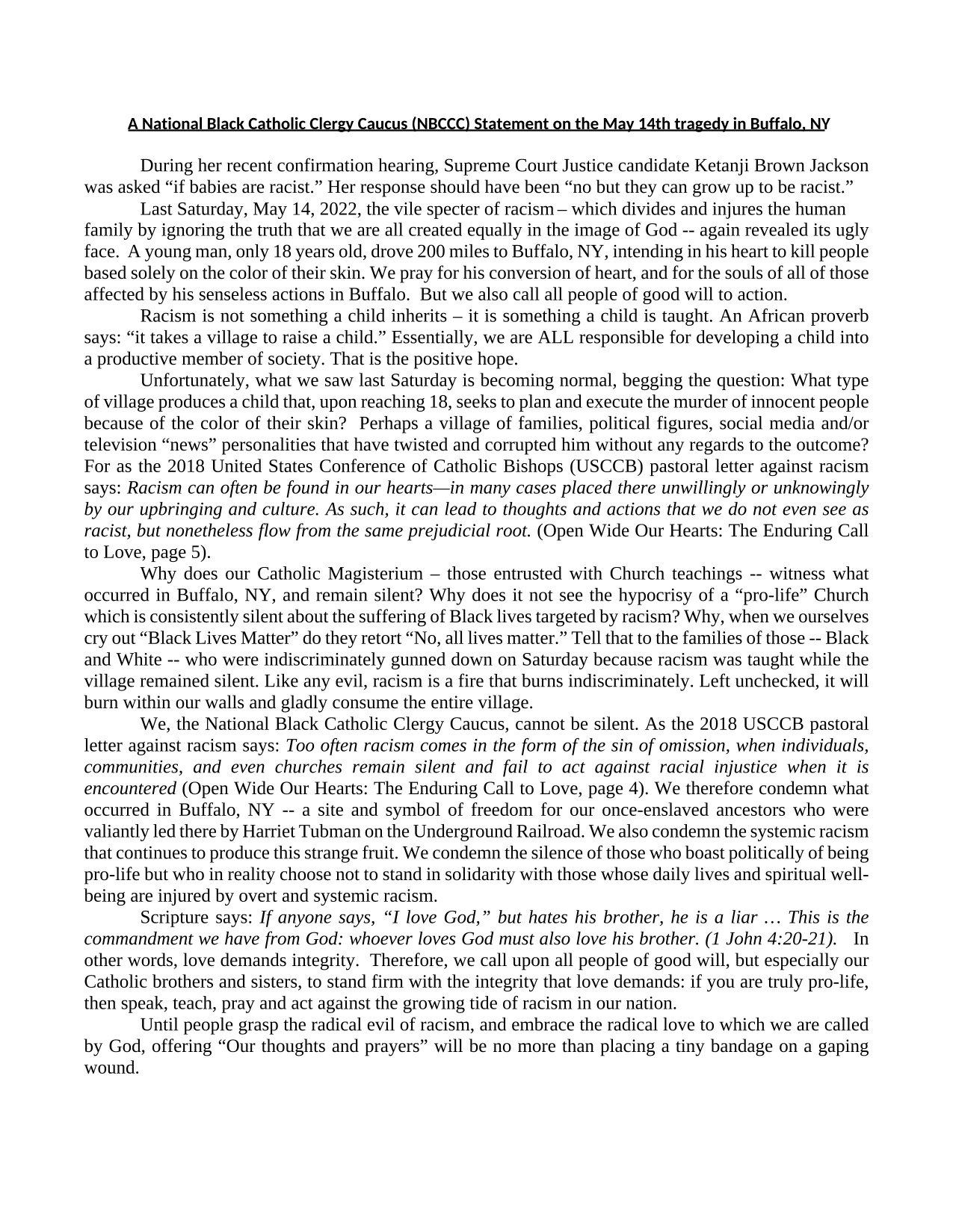 Mission Statement
As a fraternal organization dedicated to the spiritual, theological, educational, and ministerial growth of Black Catholic clergy, religious and seminarians, we serve the people of God — particularly the members of the Black community — in order to more effectively meet their spiritual and social needs.
Formation of NBCCC
In April 1968, amidst a growing sense of Black Nationalism and facing widespread riots and disillusionment in the wake of the assassination of Rev. Dr. Martin Luther King, Jr., roughly half of the then-150 Black Catholic clergy met separately at the Catholic Clergy Conference on the Interracial Apostolate — the first time the nation's Black Catholic Clergy had ever gathered as one body.
Home
Gallery
Members
Directory
Dues
Contact
2019 NBCCC Lifetime Achievement Award
2019 NBCCC Lifetime Achievement Award Recipient: Brother Roy Smith, C.S.C.
Established
National Black Catholic Clergy Caucus
Pan African Roman Catholic Clergy Caucus (PARCCC)
Black Catholic History Month (November)
Institute of Black Catholic Studies at Xavier University, New Orleans
Formed
National Black Catholic Seminarians Association (NBCSA)
Founded
National Association of African American Catholic Deacons (now National Association of Black Catholic Deacons, NABCD)
Co-Founded
National Office for Black Catholics (NOBC)
Black Catholic Theological Symposium
Published
Declaration on Racism in the Catholic Church
Black Catholic Men of God
Partnered with
Black Unity and Spiritual Togetherness (B.U.S.T.)
National Black Catholic Apostolate for Life (NBCAL)
Ambassadors of the Word
Supported
Rebirth of the National Black Catholic Congress
NBCCC's Goals
3 Components of NBCCC
National Black Catholic Congress
National Black Sisters' Conference
National Association of Black Catholic Deacons
Institute for Black Catholic Studies (IBCS)
National Black Catholic Seminarians Association
Black Catholic Theological Symposium
National Black Catholic Apostolate for Life
Black Catholic Clergy of Atlanta